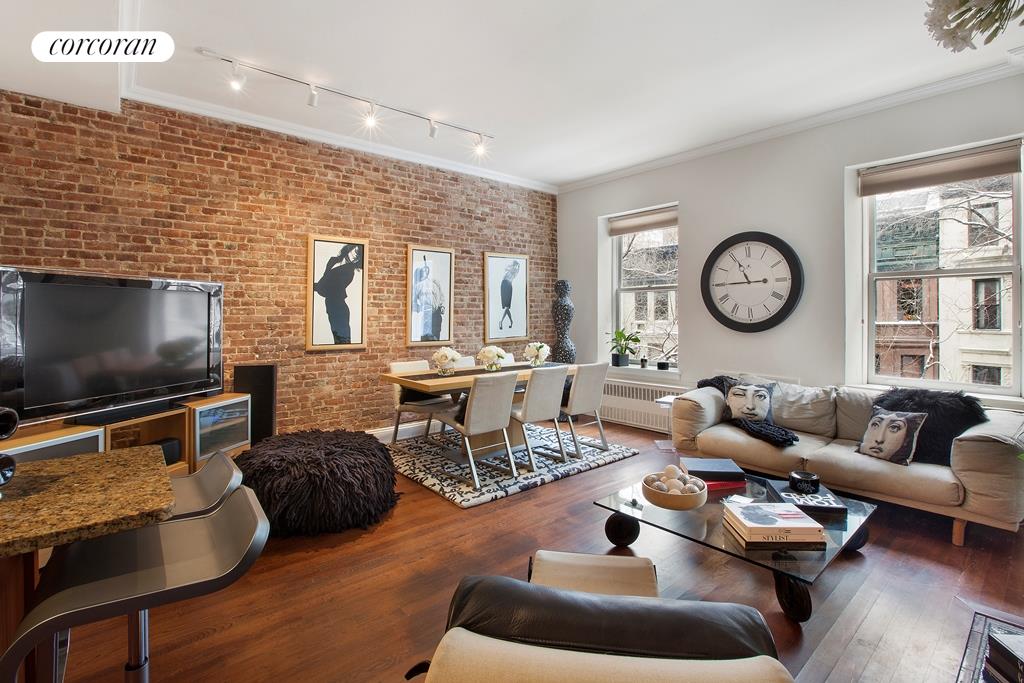 This is the living room of Apartment 3, now for rent at $6,500.00/month.
14 W. 95th Street
New York, NY 10025
Joseph's apartment is on the TOP floor, as seen here:
Strangely, this apartment above, which became available August 1, is listed with both Corcoran and Easy Street agencies, but the owner is clearly Amy B. Kapner, which sounds Jewish to me. While I've never heard Joseph disparage black folk, he OFTEN disparages Mexicans and Jews!!!
"Mother Dearest", Ruth Anne (Meyer) Kenan, now 92 and living in Raleigh, NC, is America's TOP NAZI!!!
My mother ALWAYS defends Joseph Faulk when I have gotten annoyed with him over his trying to get me to allow people he KNOWS tried to murder me -- and he even had several times insisted I let "Toro" in when he STATED he wanted to harm me!!!
The time Toro came by in 2013, smoked Meth, then

CLEANED MY BATHROOM NAKEDLY

(he's a TOTAL GROWER, which he liked me to enjoy, and he LOVES oralizing guys, too!!!)!!! It took him an hour, what I could have done in ten minutes. Toro was a close associate of

Luis Melgoza

,

-- I caught him getting his instructions from Luis before he realized I was there, listening --

former top lawyer for the PRI Party, Mexico, who lost his Law Licence -- and later his www.PVGeeks.com/ArdiNet/Lumel is headquartered in a bungalow a few miles from CIA Headquarters in Virginia.
Salvador Fuentes, who had pretended to be my fourth Kenan cousin sent by Thomas S. Kenan III of Chapel Hill, with his "mother" and her friend, who recorded my story for 45 minutes -- and 60 MINUTES, which she free-lanced for as a producer, would run at least two segments on my story (that part in 2010).
Joseph Faulk ALSO tried to get me to let in "Sonny" and his friend Martin Jacobo:
I believe Martin's name is real (on left), but "Sonny" is by birth
Jimmy
Humberto
Montaño Prieto, but when arrested and sent to US Federal Maximum Prison with a 25 year sentence for Drug Mafia crimes, he had no ID card, and gave a fake name.
Sonny told that the CIA let him out after only 11 years, and he was sent by them to Puerto Vallarta to protect the Clinton/Obama/Bush/Cheney narco-trafficking.
Sonny told me many times that he had entered the USA illegally as a child without parents, and the Columbian Drug Mafia took him in. He specialized in butchering -- to more easily dispose of bodies, but claimed that The USA never knew of his CAPITAL CRIMES (with NO Statute of Limitation), that are tied to his fingerprints, so his GREATEST FEAR is of being arrested and sent to the USA for prosecution of them.
He also was instrumental in helping his "Sun Kings" Colombian Drug Mafia, which he helped begin in Brooklyn, first take control of the New York City Police Department, from the traditional Italian/Irish Family Mafias, worked for a long time establishing the operations of Southeast Florida coast (otherwise controlled by Thomas S. Kenan III and before that his father, Frank Hawkins Kenan), helped set up the Stone Mountain, Georgia Drug Ring (largely controlled by my old boss, Patrick Stansbury of www.pentagon-usa.com and Tennessee Williams scholar and editor Thomas Elliot Keith's Colombian boyfriend, Arturo:
Me with short Arturo, and Thomas Keith at the Bishop's Reception, following the big celebrity-participation celebration, when Episcopal Cathedral Church of St. John the Divine invested Tennessee Williams's "Poet's Stone", late fall 2009.
And YES, Arturo's entire family lives in the Smoke Rise section of Stone Mountain, Georgia, directing that MASSIVE Drug Ring (the one Gen. Russel Honore' told me he knew so much about too), with Patrick Stansbury, Newt Gingrich, CNN -- and my parents helped set it up, also with Nixon's top aide, John Ehrlichman, now deceased) -- Dad a VERY close friend of Lee Gosney of Pentagon Publishing in 1990, living in my house for half a year, including the 15 weeks Judge Linda Warren Hunter held me in jail without bond -- for SIMPLE TRESPASS, then released me to HOUSE-ARREST PROBATION for a year, and included that if I did NOT take Lithium Carbonate to HER (not a doctor's -- but my mother told Judge Hunter what level to prescribe), prescribed amount -- with WEEKLY blood-level testing, and a YEAR in jail if I ever fell below it.
And YES, Sonny told me too, that he had MANY dealings with the Episcopal clergy of St. John the Divine -- who were some of the Drug Mafia's TOP PARTNERS!!!
ADDED: It was Martin Jacobo, who tried to murder me TWICE in one week, two months ago, followed by the FAKE BOMB placed in my car and Puerto Vallarta Police coming out to investigate -- proving they were PART OF IT, so I FLED ASAP back to Wilmington -- and into Carolina Apartments, infested with International Narco-Traffickers, as Jennifer McCracken PROVED by her associations with Colin Hamilton and Del Shores!!!
WEIRDEST OF ALL, is that a few years AFTER that investiture ceremony, my brother, Michael William Kenan, told me he had driven up and was in the back audience of that ceremony -- never letting me know he was there -- so he could see what sort of life I had had among all the celebrities -- but I'm CERTAIN, now, he was doing Drug Mafia business with the Episcopal clergy -- or Thomas Keith and Arturo!!!
Mike is wearing the Wrightsville Beach T-shirt.
And of course I DID have problems in Puerto Vallarta with Alberto and Martin Guzman (different mothers, but likely sons of "El Chapo" Guzman) -- and a couple of months after Mexican Marines captured El Chapo, one of those officers who had HANDS-ON caught Guzman debriefed me in Nuevo Laredo, Mexico, longer than any of the other Mexican Army and Marines Officers who did so -- on MANY occasions and locations in Mexico!!!
So it was one of these three who interviewed me.
>>>
AND AGAINST ALL THIS BACKGROUND, I HAD
THIS ENCOUNTER
WITH TESTO
(JOSEPH FAULK)
,
THIS EVENING
:
I called Joseph and asked him to explain his behaviors of trying to harm me -- as well as his calls or emails with my sister, Jane Ann Kenan of Raleigh -- who had called Stone Mountain Police Department FIRST in the five attempts to commit me in one month, spring 2010, on command of Patrick Stansbury, with Allen Rosen -- and possibly also Christal Presley as intermediaries (which both admit to).
Patrick Stansbury, who exchanged large packets of cash with now retired Republican Congressman John Linder in my presence in the 1990s at Blue Ribbon Grill in Tucker, GA
Tonight, Joseph claimed he had contacted Jane TWICE (once more than he ever previously admitted), and it was because I had taken over-long to get to Mexico when I fled back in 2012. Previously, he told me ONE call, and once he said earlier than that, another time later than that, but the FACT IS, I was so eager to get out, that as soon as I packed my car at U-HAUL on Third Street in Wilmington, I drove continuously, then spent five hours sleeping just north of Mobile, Alabama -- met the manager of a HUGE Buc-ee's truck stop in Wharton, Texas, who is BEST FRIENDS with Frank Sinatra, Jr. (called Pancho)-- who lives a stone's throw from the gas station,and throws HUGE barbecues for the townspeople.
I did NOT have time to go over to meet Pancho, although I know Patricia Sinatra, his cousin-by-marriage who had engineered selling majority control of their Bank of America to Thomas S. Kenan III, and her son, Danny Sinatra, still of Wilmington. Instead, I did not stop to again sleep until I reached Nuevo Laredo, and from there, drove straight through to Puerto Vallarta, where I IMMEDIATELY called Joseph to let him know I had arrived safely.
I am SO SICK of Joseph Faulk's lies, that I told him we need to have a SEPARATION, with him giving me a LUMP final payment (or I'll sue him for Palimony, since he's been so consistent supporting me nearly four years now, and has promised to pay me at least $600.00/month as long as I need it).
Joseph has so far given me over $40,000.00, so it should probably be about 1/4 of that amount, and then we can PART AS FRIENDS, no???
And LOOK what Thomas S. Kenan III hath just wrought!!! I hope someone sends this (and more of my info), to those who support TRUE education at UNC, Chapel Hill!!!